Invitation to tender: Company to research and develop approaches to and tools for the collaborative creation and maintenance of registers as open data
08 August 2017
Call for tenders by the Open Data Institute
The objective of this work is to research and develop approaches to and tools for the collaborative creation and maintenance of registers as open data.
The successful company will work in collaboration with the Open Data Institute (ODI) who will provide guidance, review and assistance throughout.
Summary and timeline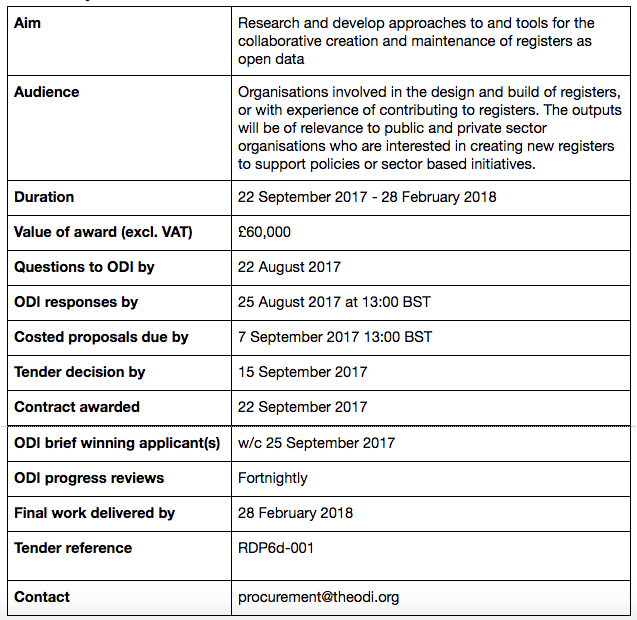 Terms of payment
50% of the agreed value of the award will be paid in November 2017, and the remaining 50% will be paid upon completion of the work, including satisfactory responses to all feedback from the ODI.
Background
We are carrying out a series of research and development activities to compare and learn from current practice around data in the UK and France. This includes bringing people from the UK and France together to learn from each other at a series of workshops and events, investigating design patterns around open APIs, and this piece of work, which aims to research and develop good practices in and tools to support the development of collaborative registers.
Registers are datasets that act as core reference data. Registers collect information about all instances of some category of thing, such as addresses or countries. Each record contains information about an instance of that category, with a unique identifier that enables it to be referenced.
Registers are not only useful in their own right; the identifiers they contain are frequently used within other datasets. They provide contextual information that helps to enhance understanding of other data. They help to create links between datasets through the use of unique identifiers. And they can help to ensure the quality of data by supporting validation.
Many countries, including the UK and France, have been exploring the creation of registers as key parts of a national data infrastructure. The UK has been developing registers as part of its work on Government as a Platform. France has identified core reference datasets within the Digital Republic Act, for example addresses and companies.
Due to the type of data that registers hold, it is often the case that multiple organisations and individuals can contribute to the information held within a register. They may have different levels of authority or types of information over which they have authority. They may be involved at different stages of the lifecycle of things described by the register. They may have different perspectives because of the way in which they interact with those things. Or they may have responsibilities scoped by geography or law.
For example, an address register in the UK has stakeholders such as local authorities (who care about addresses in their area), postal services (who care about information that makes it easy to deliver post to those addresses), statisticians (who care about the classification of different types of address) and citizens (who care about the information recorded about their own addresses), amongst others.
When multiple stakeholders care about the data within registers, sometimes this leads to the creation of multiple registers about the same kind of thing. This causes confusion amongst users of the data, who don't know which register is suitable for their task. On the other hand, having a single designated authority for all the information in a register about a particular type of thing can lead to frustration if the needs of different stakeholders aren't taken into account.
Collaboration around registers is therefore important. This can come in many forms: explicit federation of responsibility, wiki-style maintenance, centralised task allocation with decentralised work and so on.
This work will research existing approaches to the collaborative maintenance of registers, across a variety of sectors, with particular reference to the models used in the UK and France. It will prototype and explore the tools or platforms that are needed to help people and organisations with a range of needs to create and maintain collaborative registers.
Deliverables
As part of this work, you must deliver an accessible report of around 20 pages on current practice around collaborative registers. The audience for this report is both government and consortia who see the need for registers. We want the report to inform thinking about the way in which registers are developed technically, the governance regime that is put in place around them, and the other policies and practices that ensure they are effective. This report must include:
a summary of the approaches currently being used to develop registers in the UK and in France, and the degree to which this is being done collaboratively

case studies that help to illustrate different ways in which registers are maintained collaboratively
We will work with you to ensure that this report is effective at reaching and communicating with the relevant audiences. We would like this report to be delivered part way through the project (e.g. in December 2017). You should indicate your plan for researching the material for and delivering this report in your bid.
Further to this report, we expect you to carry out research and development to advance current practice. Your bid should describe how you intend to do this. For example, you might work on:
a classification of registers that helps to identify appropriate methods and patterns of collaboration based on context or content

recommendations for how to design collaborative registers, including their technical design, governance models, processes and policies

tools or platforms to help people and organisations with a range of needs create and maintain collaborative registers

a prototype collaborative register with a particular domain focus, the implementation of which provides lessons and insight into the barriers and opportunities for collaborative registers
Within your bid, you should describe the other outputs that you will be aiming to deliver, the audience for those outputs, why you believe those outputs will deliver impact, and what help you will need from ODI to ensure that they do.
We encourage you to be open about your activities during the work, including blogging and speaking about it, and opening up your work for feedback from the community as a whole as well as from ODI. We also expect that your deliverables, including the report and other outputs will be published under an agreed open licence.
Activities
Your main activity during this work will be the research and development work that you undertake on collaborative registers.
We expect to work with you closely. We will have a face-to-face kick off meeting including members of the ODI team to discuss your approach. We will have fortnightly calls or face-to-face meetings to discuss activity and progress on the work. We will expect to see drafts of your deliverables early, provide comments and discuss them with you. We will have a final face-to-face reflection workshop near the end of the work. Where these include face-to-face contact, we will expect you to come to London; you should factor in any travel and accommodation expenses for this into your bid.
We anticipate this work being presented at a UK/France Data Summit before the end of the period of work. You should also factor in expenses for attending this to your bid.
The ODI will, where possible, provide space to work in our offices in London, when members of the successful company wish to work onsite. There is an expectation that the successful company will work closely with the ODI team, which includes regular face-to-face meetings and being available remotely (e.g. Skype, email, Slack).
Form of tender response
Interested parties should submit a costed proposal (in English) to [email protected] which includes:
the tender reference in the email subject line
a short (no more than 5 pages) explanation of your proposed approach (e.g. methodology, scope), including why you are well-placed to do the work
a description of the team who will do the work, including bios in addition
the costing should be at activity level, but feel free to provide more detail
a writing sample of a similar research report or impact study
If you have any questions about the tender, please contact [email protected] quoting the tender reference. The ODI reserves the right to make both anonymised questions and answers public or shared with other organisations having stated their interest.
Decision criteria
All proposals will be assessed as described in our public procurement policy. In addition, for this procurement we will be looking for:
Evidence of an understanding of the role of registers and collaborative approaches to maintaining open data.
Demonstrable ability to be able to conduct research in both the UK and France.
Evidence of impact of the additional research and development you propose to do in addition to the initial report.
Ability to communicate well in written form; we ask that you include an example of your writing.