Invitation to tender: Companies to help make it easier for people to understand UK technology clusters
21 July 2017
Call for tenders by the Open Data Institute
Contact: Mandy Costello ([email protected])
The objective of this work is to understand the needs of people who want to use data to understand UK technology clusters; produce tools, data and visualisations that meet those needs; and produce a short, accessible report describing the methodology and identifying unavailable data that could be made open to help improve decisions made using data about UK technology clusters.
The successful company will work in collaboration with the Open Data Institute (ODI) who will provide guidance, review and assistance throughout and publish the final results of the work.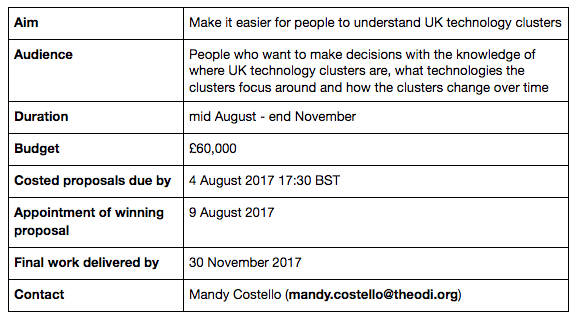 ---
Background
The UK's tech economy is growing with many clusters in different places around the country. These clusters include public sector, private sector, third sector and academic organisations. The clusters may focus on one or more technologies for example: data, artificial intelligence / machine learning, health, internet of things, distributed ledgers or augmented reality.
Many people and organisations need data about technology clusters to help them make decisions. We are one of those organisations. We use data about the clusters to help target our activities whether it be in support of existing initiatives, or to find potential users and supporters of our work or future collaborators.
Other people use the data to decide where to start a business or perform research; to decide where to invest; to find partners to collaborate on tackling particular problems; to buy services, to sell services; or to inform national and local policy. Some people need access to the data itself, while others need the data to be visualised. Some people need to know about the number of businesses in each cluster, others need to know each cluster's economic contribution or the strength of connections between different clusters. Some people need a one-off snapshot. Others need data over a time period to understand how clusters grow and shrink as their environment changes.
While there are several reports on technology clusters that meet different sets of needs, there are known gaps such as common definitions for measurements, repeatability, timeliness, provenance of the data and openness of the methodology / data. More gaps might be identified through research.
The aim of this piece of work is to identify and close those gaps, making it easier for people to understand UK technology clusters.
---
Deliverables
Throughout the engagement we expect you to work as openly as possible by publishing short blogs on progress, small datasets or prototype versions of tools and visualisations to learn from the feedback that they generate.
The final deliverable for the work will be openly licensed guides, tools and data that will help people make better decisions about UK technology clusters using data. The audience for the guides, tools and data will be people that you identify when performing the work. The tools should signpost users to information describing the methodology by which they were produced and the provenance of the data. The guides are likely to point to both the new tools/data and many of the existing reports and their usefulness for particular audiences and needs.
The final deliverables will also include a short, accessible report describing the methodology, the identified needs, and data that is currently unavailable but that could be published as open data to help people and organisations make better decisions about technology clusters in the future. The audience for this report is most likely to be policy makers and data users who want to investigate the work in detail.
All deliverables should be shared with the ODI from the start, to enable iterative feedback, review and discussion. We will support the communication of the work through our own marketing capabilities but we encourage you to factor into your bid the cost of creation of diagrams, infographics or other materials that supplement written communication about your methodology and data.
---
Activities
We do not want to be too proscriptive of your activities. We expect you to have some experience delivering similar work and want you to use your expertise both in preparing your bid and delivering the work.
We expect you to engage existing and potential users of UK technology cluster data early in the project and from places around the country. We expect that an early, but vital, piece of the project will be to agree how to define a cluster and a list of useful measurements such as the number of organisations and people working in a cluster, for different use cases. We believe that users include central, devolved and local government; researchers; businesses; think tanks and journalists. We recommend that you run workshops as well as one to oneinterviews to gather their input.
We want you to work as openly as possible during the project, sharing your work with your and our network and the people that you have engaged and listening to their feedback.
If members of the successful company wish to work onsite, the ODI will, where possible, provide space to work in our offices in London. There is an expectation that the successful company will work closely with the ODI team, which includes weekly progress meetings that might be face-to-face or remote and to be available remotely (eg Skype, email, Slack) in between meetings. We will provide quick and regular feedback on deliverables.
---
Form of tender response
Interested parties should submit a costed proposal (in English) to Mandy Costello [email protected] by 4 August 2017 at 5.30pm, including:
a short (no more than 5 pages) explanation of your proposed approach (eg methodology, scope, research plan), including why you are well-placed to do the work
a description of the team who will do the work, including bios
a writing sample of a similar research report or impact study
---
Timeline
The ODI will contact the successful applicant no later than 10 August 2017. We request that there are weekly reviews with the ODI to discuss progress during the project. The ODI may return with further requests, and the work will be completed by 30 November 2017.
Payment of the agreed contract price will at two points. 50% at the halfway point on 29 September 2017 and 50% up upon satisfactory completion of the work on 30 November 2017, including responses to feedback from the ODI. If you have any questions about the tender, please contact Mandy Costello [[email protected]].
---
Decision criteria
All proposals will be assessed as described in our public procurement policy.
In addition, for this procurement we will be looking for an engagement methodology, describing how you continue to engage with and test draft outputs with users of the data throughout the work