Invitation to tender: Companies experienced with developing open standards for data to document their tools and processes
18 July 2017
Call for tenders by the Open Data Institute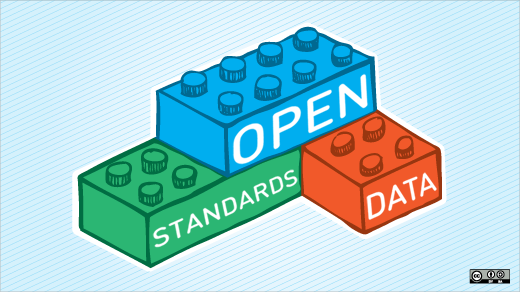 Image from Opensource.com (CC BY 2.0)
Contact: Gillian Whitworth
The objective of this work is to document the good practices and tools used by companies who develop open standards for data. The successful companies will work in collaboration with the Open Data Institute (ODI) who will guide the research and documentation.
Aim: Document tools and processes used to develop open standards for data.
Audience: Organisations who want to develop open standards.
Duration: 1 September 2017 - 30 November 2017
Budget: Up to £50k each (total available £150k)
Costed proposals due by: 14 August 2017 10:00 BST
Tender decision by: 21 August 2017
Appointment of winning proposal: 25 August 2017
Final work delivered by: 30 November 2017
Contact: Gillian Whitworth
Background
The overall goal of the project – of which this piece of work is a part – is to provide guidance to organisations that need to develop open standards for data, so that they are able to do so more quickly and so that the standards they create achieve better adoption and wider impact.
By open standards, we mean standards developed according to the Open Stand principles. By data standards, we mean shared vocabularies (common models, code lists, attributes and definitions) as well as data exchange formats that define how data is serialised and published.
This piece of work contributes towards that goal by engaging with organisations who have been involved in the creation of open standards for data to understand good practices and tools they have developed. This will form an input to the guidance that we will put together later in the project.
A secondary goal is to enable peer learning between organisations who are developing open standards for data. We hope that by sharing and discussing tools and practices with peers and ODI, we can all learn more and improve what we do, as well as providing a useful set of resources for those who want to develop standards.
We want to engage you to document the process and tools that you use when developing open standards for data. This will include both describing your process and tools and reflecting on their strengths and weaknesses, where possible documenting the changes that you have made over time as you have gained experience.
When it comes to processes we expect you to document aspects such as the extent and ways in which you identify opportunities for new standards, engage people to contribute to the standard development process, governance regimes over changes to the standard, how you publish the standard and how you drive its adoption.
When it comes to tools, we are interested in the tools that you have developed to support the creation of the standard (such as those supporting the automatic generation of schemas or documentation). We are also interested in tools that you provide to those using data, using the standard as both publishers and consumers (such as registries, validators, aggregators or visualisation tools).
We want to engage you for a fixed payment and a fixed amount of time, but may adjust the scope of the work as we research and explore different aspects of the process of standards creation. We will provide you with an initial template to document your process and tools, but will extend and expand this template based on the information you and other standards creators supply. For example, we may start just asking in general about your engagement process but then dig into the techniques you use to ensure representation from multiple types of stakeholders.
Deliverables
We want both the outcome and the process of the research to be useful to you. The intellectual property you create will be owned by ODI but fully reusable by you under an open licence and we encourage you to reuse it, including sharing with potential customers of your standards creation and support services.
You will create two sets of outputs. Both will be shared with the ODI from the start, to enable iterative feedback, review and discussion. The deliverables are:
Outputs that describe what you do and the tools that you use, as a case study. We will publish these outputs openly. This may include a video and podcast that features you as well as written documentation. (We will support the creation of these; all you need to provide is your time.)
Outputs that reflect on the strengths and weaknesses of your approach, the difficulties you have encountered while developing standards, and how your approach has changed over time. To encourage candour, these outputs will only be visible to ODI and yourselves. ODI will summarise these, along with other research, in an anonymised report.
We encourage you to factor into your bid the cost of creation of diagrams, infographics or other materials that supplement written communication about your processes and tools.
You will also attend a workshop with other organisations who receive this funding near the end of this work. There you will provide an overview of your approach and jointly explore ways in which the process and tooling around developing open standards for data could improve.
Activities
Your main activity during this work will be documenting your tools and processes.
During this work you will engage in fortnightly calls with the ODI, and staggered fortnightly calls with the ODI and other organisations funded through this work. We will have a face-to-face kick off workshop near the beginning of the work and a face-to-face reflection workshop near the end of the work. These workshops will be held in London and you should factor in expenses for attending them to your bid.
The ODI will, where possible, provide space to work in our offices in London, when members of the successful companies wish to work onsite. There is an expectation that the successful company will work closely with the ODI team, which includes being available remotely (eg Skype, email, slack) outside the fortnightly calls and workshops.
Form of tender response
Interested parties should submit a costed proposal (in English) to [email protected] by 10:00 BST 14 August 2017, including:
a short (no more than 5 page) bid that covers how much time you will commit to this work and for what cost, your background in developing open standards for data, a taste of the kind of process and tools you use, and a description of why you are well placed to do this work
a description of the team who will do the work, including bios
a writing sample
Even if you are not selected to carry out this work, we would like to include you in our research, for example by interviewing you for a short case study and by inviting you to workshops that we hold as part of the wider project. Please indicate whether you would like to be involved in the project even if not selected for this piece of work.
Timeline
Interested parties should submit a costed proposal to [email protected] by 10:00 BST 14th August 2017.
The ODI will contact the successful applicant no later than 25 August 2017. As described, there will be weekly reviews with the ODI to discuss progress during the project.
The ODI may return with further requests, and the work will be completed by 30 November 2017.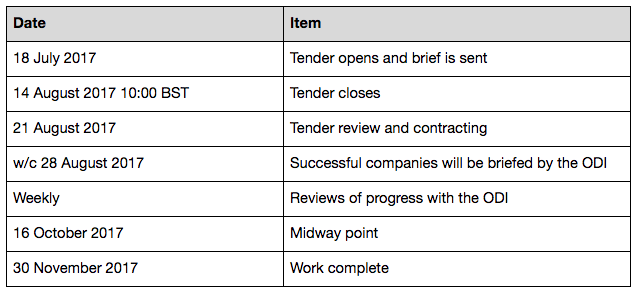 Half of the agreed contract price will be paid halfway through the work (invoiced mid-October). The remainder will be paid upon satisfactory completion of the work, including responses to feedback from the ODI.
If you have any questions about the tender, please contact [email protected].
Decision criteria
All proposals will be assessed as described in our public procurement policy. In addition, for this procurement we will be looking for:
Experience developing a number of open standards for data: please list the standards that you have been involved in developing and give an approximate indication of the number of users of those standards.
Evidence of having developed guidance, checklists, re-usable documents, approaches and tools to support the standards creation process.
Experience engaging in self-reflection, learning and improvement and enthusiasm for developing your own process and tools through this work.
Ability to communicate well in written form: we ask that you include an example of your writing.