Call for tenders: collaborative data innovation projects between French and UK cities
Call for tenders by the Open Data Institute
Contact: [email protected]
The ODI will grant one final £20,000 award for a proposal that connects and/or encourages collaborative data innovation between French and UK cities.
For this call, we use a broad definition of 'data innovation': this includes innovative products and services, but could also be improvements in data infrastructure, in data skills, facilitating data sharing, or strengthening peer networks. We are particularly interested in activities that share existing data innovation between France and the UK. For example, a successful innovation developed in a French city being adapted and transfered to a UK context.
One award of £20,000 will be made The deadline to apply is Friday 10th November; 12:00 BST
We encourage and will prioritise joint applications from city-based groups, organisations and companies in France and the UK. The successful applicants will work in collaboration with the ODI, who will provide guidance, review and assistance throughout.
Summary and timeline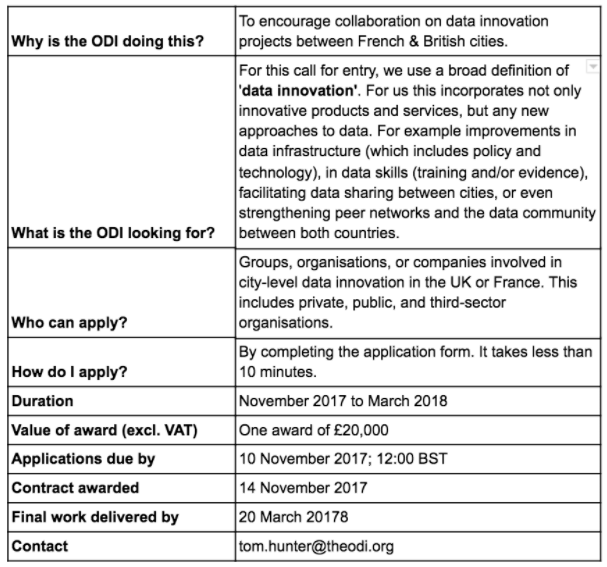 Terms of payment
50% of the agreed value of the award will be paid after the contract is awarded in November 2017, and the remaining 50% will be paid upon completion of the work, including satisfactory responses to all feedback from the ODI.
Background
In July 2016, the UK France data taskforce set itself the objective of connecting data innovators and innovation across French and British regions.
That is why the ODI is funding three bilateral proposals that connect French and British cities, and encourage collaborative working on data innovation between them. We are focusing particularly on proposals that look to replicate successful existing innovations from one city and bring it to another.
This is an R&D project and we encourage you to innovate, take risks and try new things. We encourage and will prioritise joint applications from consortiums groups, organisations and companies from France and the UK involved in city-level data innovation
Deliverables
The final deliverable for this piece of work will be to disseminate the results and learnings from your project in the format of your choice (for example a blog-post, a talk or a video). This should summarise your project and cover:
an explanation of the rationale for the project and for the collaboration between UK/France city-based groups
a summary of the project and what you have achieved
how the project helped connect data innovation between France and the UK
learnings from replicating innovations and approaches from one UK/French city in another (e.g. challenges and how you overcame them)
recommendations on how this could could be built on to create sustainable data partnerships between French and UK cities
The ODI favours working in the open. The successful candidate will be expected to conduct this work in this manner through blogging and speaking about their work. The successful candidate will also liaise regularly with the ODI team, for example through face-to-face meetings and being available remotely (e.g. via Skype, email or Slack).
Additionally, we anticipate this work being presented at the next UK/France Data Summit before the end of the period of work.
Decision criteria
All proposals will be assessed as described in our public procurement policy. In addition, we will be looking for:
evidence of capacity to run activities in both France and the UK
ability to communicate well in written form and to tell the story of your project
The application process
Stage 1: Complete the following application form before 10 November 2017; 12:00 BST. It takes less than 10 minutes
Stage 2: We will announce the proposal awarded £20,000 on 13 November 2017

If you have any questions, feel free to contact us at [email protected].